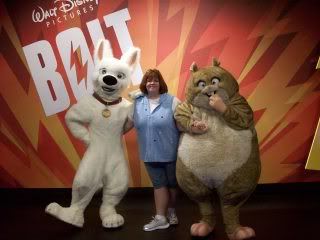 Hello Everyone!!
I'm Dawn, your Co-guide for The Office: Budgeting and Rewards Programs, WDW: Making More Magic, DL: Staying in Style, DL: Southern CA Attractions, and WDW and DL: Trip Reports. I'm 39 years old, and currently living in Louisville, KY. I'm happily married to my DH Chuck
since September of 2000. We have have one fur kid of the canine persuasion named Anastasia Leigh, or Ana for short. I currently work in the insurance industry in legal and compliance as a business analyst.
My love for Disney started at an early age. My first trip to WDW was with my grandmother, my mom, my sister, and all 8 of my cousins (mom's side of the family) in 1976. We stayed at the Poly, and I spent a lot of time on the monorail riding the loop and watching the Electical Water Pagent in the Seven Seas Lagoon. I "bought" a Dumbo plush animal that I still have to this day. After that magical trip, I went back several times with my family, including the year EPCOT was first opened. Unfortunately, I hit a dry spell where I dreamed of the day I would go back to the Happiest Place on Earth.
My DH reluctantly agreed to a honeymoon in WDW in 2000, and he slowly began to find a love for the mouse as well. We returned the next year for our anniversary, and he admitted he was hooked.
We average one trip a year together but that doesn't keep from planning and going on trips with my mom and friends. I've had the great opprotunity to visit the "Original" in CA as well as trips to my home away from home, WDW.
I found the PassPorter community after buying my second PassPorter in 2003. I lurked for almost a year before I became actively involved and started posting. I have found a new "family" that I am proud to be a part of. I've been lucky enough to gain some incredible friendships from this board, as well as invaluable information.
Apart from Disney, I do have some other things I enjoy. I have a huge scrapbooking addiction and love to take photos. When it comes to sports, you'll find me at rooting for the
COLTS
during football season and for
Dale Earnhardt, Jr.
during NASCAR season.
I'm honored to be your Co-Guide in the Office, WDW: Making More Magic, DL: Staying in Style, DL: Southern CA Atrractions, and WDW & DL: Trip Reports.