I can answer your questions regarding the Romance at Sea package... this is from a prior post of mine:

We cruised on the Wonder May 13-17, 2007 and since it was our 20th wedding anniversary, I decided to book the Romance at Sea Package. Partly because it was our anniversary and partly because as a travel agent who specializes in Disney, I wanted first-hand experience with the pros and cons with the package.

First off, the stateroom gift included in the package was wonderful - two waffle-weave robes embroidered with the DCL logo, a silver DCL 8x10 picture frame and a heart-shaped box of Ghirardelli chocolates all placed in a pretty basket. There was also an anniversary card from the Captain and officers.

Booking at 105-days was a nice perk but as Castaway Club members who can book at 90-days, I don't know if that particular option was much of a benefit in our situation. We did get the exact day and time for our Palo dinner & brunch that I wanted but don't know if the 15 days earlier made much difference. It would, however, be a benefit to first-time cruisers as they can jump to the head of the reservations line for Palo (definately a plus for shorter cruises) and harder-to-book shore excursions.

We didn't use the Tropical Rainforest pass (too much else to do!) but the other parts of the package were nice. Our rose-petal turn-down service was beautiful and the choices for our champagne brunch the next morning were good. They ended up bringing us TWO of everything that we ordered so we had more than enough food! You can order hot items like blueberry pancakes and eggs benedict - normally room service breakfast is cold / continental items only (unless you're a suite guest!)

Our Palo dinner was fantastic (but then again, it always is) but was made even better by the fantastic service of Serena. She couldn't have been any more wonderful! The $10 per-person cost is covered by the package along with a bottle of wine. Since my husband doesn't drink (and two drinks would be a no-no with my medications), I opted for a single glass of wine which she recommended. At the end of the evening, she brought us an entire bottle of the wine to take with us (so I only had to pay for the single glass).

All-in-all, it was a lovely experience. If you're celebrating a special occasion, then it is a great way to add a bit more magic to your cruise. Was it worth the extra money? I feel it was, even with not using the rain forest pass (which was hard on a 4-night cruise to find the time). The stateroom gift alone was about $200 worth of goodies (I was told the robe included isn't the same one sold in the gift shop to guests which makes it more exclusive). Not everyone has the same idea of what a good value is - some want to see cold, hard items to equal the dollar value spent but some of this package can't be measured in monetary terms. Booking early to guarantee what you've got your heart set on can be more priceless than any picture frame! The obvious time and effort into creating towel swans, a heart made out of rose petals, and a petals on the floor was touching. My 20th wedding anniversary only comes around once - and we were fortunate enough to celebrate in our happiest place. The Romance at Sea package was a wonderful extension of that celebration.

When did we book the champagne breakfast and Palo dinner?

1. We picked the morning of Castaway Cay for our champagne breakfast. That way we could take our time getting ready and still be off the ship early. We did not have a choice for which night the turn-down service was. When we boarded the ship there was a letter in our cabin letting us know what night it was. Turns out is was the night before Castaway Cay so it worked out with when I wanted to have the breakfast. The only morning you can't choose is disembarkment day. Note that the service time is PROMPT! You check off what time frame you want it delivered and *PRESTO* food was there, piping hot and delicious!

2. Our Palo night was on our anniversary night so I didn't care which dining rotation we missed. Sea days are popular choices and book quickly. Early times on port days can be available and the show at Animator's is only shown during the first rotation if that helps make your decision.

I do feel the package was worth it, especially for a once-in-a-lifetime occasion. You can add the package any time up to final payment date.

Happy cruising!
__________________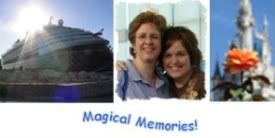 Lynn
Yes, I am a Disney Addict... and I'd rather be cruising!.